Book Review: Guide to navigating China
Small foreign-invested businesses are proving to be the next wave of international investment in China.
During the first wave, when China opened its doors to the world in the late 1980s, large Fortune 500 companies trickled, then poured, into the nation. Since China joined the WTO in 2001 two changes have taken place simultaneously - first, WTO accession triggered China to open vast new markets to foreign investment, and second, consumer wealth in the nation continued to climb steadily in urban and suburban areas.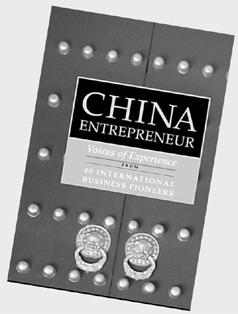 Book: China Entrepreneur: Voices of Experience from 40 International Business Pioneers
Authors: Juan Antonio Fernandez and Laurie Underwood
Price: $24.95, Pages: 364
ISBN: 978-0470-82321-7
Publisher: John Wiley & Sons (Asia) Pte Ltd
The result: China has attracted a new and widely diverse generation of investors, including a growing number of smaller companies and entrepreneurs serving niche markets. Yet, as the world's largest and most dynamic consumer market, China is difficult for international entrepreneurs - among the hundreds of thousands of foreign businesspeople fighting to penetrate the Chinese market, only a small percentage of them will succeed in bringing their startup dreams to life in the Middle Kingdom.
China Entrepreneur: Voices of Experience from 40 International Business Pioneers gives a front-line, first-hand account of what it takes for an international businessperson to start and profitably operate a small business in China. Authors Juan Antonio Fernandez, professor of management at the China Europe International Business School, and Laurie Underwood, accomplished journalist and director of external communications at CEIBS, use their combined 26 years of China experience to interview 20 successful international entrepreneurs who have launched and built businesses in China.
Their latest collaboration is the logical sequel to the bestselling title China CEO, Voices of Experience from 20 International Business Leaders published in March 2006. In the course of speaking to media and business groups for China CEO, the authors found that the most common suggestion from their audiences was to have a book that dealt with the China experience for startups and small businesses, as the China environment differed vastly for Fortune 500 companies and entrepreneurs.
This book is a collection of anecdotes, best practices and first-hand advice in tackling the key challenges of winning in the China market, from negotiating with governments and winning necessary startup approvals, to hiring and keeping the right staff, to collecting payments and to safeguarding intellectual property. In addition, the experience of entrepreneurs is juxtaposed with insight from experienced China consultants who assist startups in operating in China. The book offers practical business advice from consultants who have risen to prominence in China by advising SMEs on succeeding in China.
China Entrepreneur focuses on the strategies, tools and knowledge necessary to start and grow a business in China without the backing of a global corporation. The practical guide, which distills 500 years of China experience from 40 foreign entrepreneurs from 25 countries, is full of vivid stories to illustrate the points made in the book. It can work as a "how to" manual and also as interesting reading for those thinking of starting their own business.
(China Daily 06/15/2009 page5)